Nascar is a significant and influential car racing tournament in the US. That is why the souvenirs of the Nascar race in particular and the racing tournaments generally interest the fans.
These gifts are often more challenging to find than regular gifts. However, if your loved one is a car racing fan, you can check his personalized car gifts below.
It can be hard to find the right gift if you have a loved one who loves the racing car. You need something that shows how much you appreciate them and their love of cars. So in this article, we've put together our top 15 personalised car gifts for him!
15 Personalised Car Gifts For Him On Special Days Reviews 2022
Below is the list of the personalised car gifts for him that you can select one of these to give your man.
Brad Keselowski Unisex T-Shirt
A personalised t-shirt is one of the best gifts for him. You can choose from various designs and styles, including classic, sporty and casual. Some come with his name, some with his number or initials, and others have a logo printed on them.
You can use this gift to commemorate an occasion such as graduating from high school or college, getting married, or having a child. It will remind him of these happy occasions every time he wears it!
Price: $21.95
Petty GMS Motorsports Unisex T-Shirt
This graphic tee is the perfect gift for a racing enthusiast. This dark grey t-shirt will surely be a hit with any NASCAR fan, featuring a retro Petty GMS Motorsports design.
With a classic crew neck and short sleeves, this unisex t-shirt is easy to wear and stands out from the crowd! The 50% cotton and 50% polyester blend makes it comfortable for everyday wear or special occasions.
Machine washable means you can keep it clean after wearing it for long periods! Made in the USA means that you know your purchase supports local manufacturing jobs!
Price: $21.95
Chip Ganassi Racing Basic Logo Unisex Tee
This 100% cotton t-shirt is ideal for any racing fan. The Chip Ganassi Racing logo is printed in a stylish and sophisticated font, which makes it look great on this unisex tee. It comes in various sizes to find the right fit for everyone in your family. The shirt will look good with jeans, chinos or shorts.
Price: $21.95
Nascar Racing Hawaiian Shirt
This Nascar Racing Hawaiian Shirt is a great gift for the Nascar fan. The shirt features a race car design with the word "NASCAR" on it. The term "NASCAR" can be customized to your liking, and the design includes many Nascar drivers in the background.
It is an amusing gift idea for any man who loves to go to the beach or someone who simply enjoys wearing Hawaiian shirts.
This product comes in multiple sizes and should fit most men comfortably. You can also choose from different background colors such as blue or red.
Price: $33.95
Check out our 2022 collection here.
Car Mug
Mugs are a great gift for any occasion, whether an engagement, a housewarming party, or Father's Day. Mugs are a simple way to show someone you care. They are also excellent at expressing your personality and interests without being too expensive.
Mugs with special designs allow you to express yourself in a unique way that is hard to come by in other gifts.
For example, if you have a friend who loves cars, why not give them something like this mug? This design features Kyle Larson's car on one side and his number on another! It's perfect for anyone who wants their favorite driver next to them when they drink coffee every morning!
(Source: Etsy)
Personalised Car Air Freshener
Air fresheners are great for your car; they help to keep the air smelling fresh and clean. A customized car air freshener is one of the personalised car gifts for him. You can choose from our extensive range of designs in many different shapes, sizes, and techniques, including Kyle Larson Nascar, which is sure to be a hit with any Nascar fan!
Price: $8.5 (Source: Etsy)
Car Sticker
If you've got a friend who has just gotten their first car or if they're a die-hard car enthusiast, then they will love the idea of personalizing it with some cool stickers. There are many ways to do this, but one of the most popular is getting a customized sticker that matches your personality or interests.
For example, one could get a sticker reading "I'm not lost! I'm here for a reason" to help them keep calm when driving around looking for an address or something important. Or how about "I brake for food"? It will make people laugh when they see it in your car!
Price: $6.21 (Source: Car sticker)
Car Floor Mats
If the man in your life has a car, then personalised floor mats will be a great gift. They can be customized with your car's name, number, and logo to make them extra special. Let us know if you have any other ideas for personalizing these mats!
They are also practical gifts he can use whenever he gets into his car. He can park on them or just stand on them when washing his car – either way, they will protect the floor of his vehicle from dirt and water stains.
If you want another option for protecting those expensive leather seats, check out our range of high-quality seat covers here!
Price: $26.00 (Source: sxcco)
Car Keychain
A car keychain is a great way to show your loved ones that you love them. You can personalize a keychain with their name, initials, or favorite phrase. They must attach it to the end of their keyring, and away they go!
This gift is perfect if you don't own a car or want something different for your man this Valentine's Day. If this sounds like you, why not get him one of these awesome personalized car keychains instead? It will mean so much more than any other gift there could be.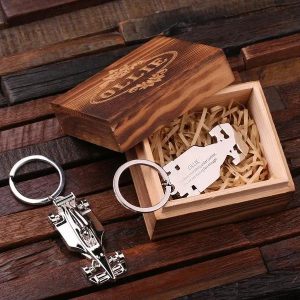 Price: $15.17 (Source: Etsy)
Personalised Car Bracelet/Keyring
This silicone bracelet is a stylish addition to any outfit, and the color options make it perfect for any NASCAR fan. It has the option of engraving a name and number onto it, which means it can be personalised to suit your loved one. The text engraved on this bracelet is done so in black, making it stand out on top of the many colors available.
This keyring comes with an attached loop so you can easily attach it to your keys or bag, making carrying around your keys easy! The keyring features a black or white text string that reads '#1 Dad's Car' – perfect for dads who love their cars!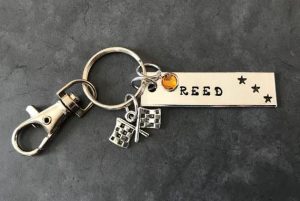 Price: $17.00(Source: Etsy)
Car Cushion Cover
You can personalize the cushion cover with two lines of text. Each line holds up to 25 characters, including spaces and punctuation. The words will be positioned vertically on the right-hand side of the cushion. If you choose to have your photo printed onto the pillow, it must be submitted as a photo with no text (e.g., at least 1200px by 1200px).
Please note that we cannot accept logos or photos with text or logos/logos/images copied from other sources (e.g., social media sites).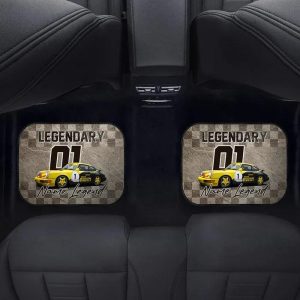 Price: $69.99 (Source: geckocustom)
---
More to discover:
---
Personalised Car Placemat
This personalised car placemat comes from the UK and is made from 100% cotton. It's available in three sizes, making it suitable for any vehicle. The placemat is machine washable, so you can be sure it's easy to look after your new accessory.
Personalized Car Placemats are available in a range of colors and sizes (from 18″ x 12″ up to 27″ x 15″).
Price: $16.00 (Source: Etsy)
Personalised Car Gin Glasses (Set of 2)
The Personalised Car Gin Glasses (Set of 2) are an excellent gift for a car enthusiast or gin lover. These glasses have been designed with the classic car in mind and feature a sleek, curved silhouette in a soft finish. They are personalized with the name of your choice and can be used to drink spirits or wine.
A pair of these glasses would make an ideal gift for any man who loves his cars, whether it's his first car, dream car, or even his current daily driver!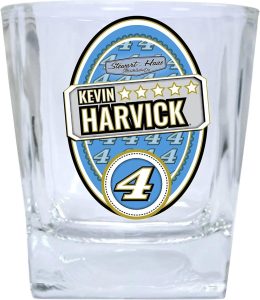 Price: $12.25 (Source: Amazon)
Personalised NASCAR Sign
It is the perfect gift if you're looking for a personalised NASCAR sign that he'll love. The design is made from premium-quality aluminum and is handcrafted in the USA. It comes with a gift box and lifetime warranty, so you can be sure it will last for years. The gift is one of the personalised car gifts for him that will make your man happy.
The sign can be personalized with his name and number, as well as the team logo of his favorite driver. Other designs are available if you prefer something different; choose between black or silver metalwork to match your decor best!
Price: $469,50 (Source: eBay)
Hendrick Motorsports Blueprint Sign (Customisable)
It is a great gift for him if he's a fan of NASCAR. The Hendrick Motorsports Blueprint Sign can be personalized with your choice of color, name, and number alongside the iconic Hendrick Motorsports logo. It will look fantastic in his office or garage, to show off his love for racing!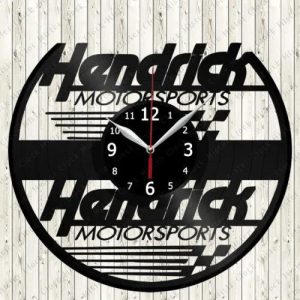 Price: $24.98 (Source: ebay)
Conclusion
There are many options for personalised car gifts for him, and we hope this list has helped you find the perfect one! From the classic car mug to a more unique gift like a NASCAR blueprint, there's something here for everyone. If you're still struggling, then don't forget – these are all super affordable too so why not get two or three of them?