Like many NASCAR fans, we're big fans of Hawaiian shirts. We love them so much that we've decided to create our line of Funny Hawaiian Shirts For Nascar Fans.
Hawaiian shirts are a beloved staple of the laid-back, summertime look. But if you're not from Hawaii, don't have any plans to visit soon, and still want to sport one of these tropical treasures?
Nascar is a race that attracts millions of viewers worldwide every year. It is an exciting race because of the differences compared to other racing events, so the number of Nascar fans is significant.
If you are looking for a Nascar shirt to wear to Hawaiian or the beach, go for it; our list of funny Hawaiian Shirts may be helpful for you.
This article will show you our collection and explain why it's perfect for anyone who loves NASCAR racing and island life!
Best Funny Hawaiian Shirts For Nascar Fans Detailed Reviews
Below are the best Nascar funny Hawaiian shirts for fans and car racing lovers.
Nascar Logo Hawaiian Shirt
The Nascar Logo Hawaiian Shirt is a must-have for any Nascar fan. The shirt features images of driving Nascar cars coming from many drivers.
The funny Hawaiian shirts are not only great for vacation or beach wear but also make great gifts for friends and family members who love cars and racing.
Price: $33.95
Chase Elliott NASCAR Racing Hawaiian Shirt
If you're a Chase Elliott fan, this Hawaiian shirt is perfect! The print on the shirt shows his car with the number 9 on it. These funny Hawaiian shirts will let everyone know you are a Chase Elliott fan.
The Hawaiian shirt has a relaxed fit and features short sleeves, screen-printed graphics at the chest and back, and an all-over print.
Price: $33.95
Sprint Car American Flag Dirt Hawaiian Shirt
The Sprint Car American Flag Dirt Hawaiian Shirt is an excellent choice for Nascar fans who want to show off their patriotic side. This shirt features red and white stripes with a picture of an old-fashioned sprint car.
The words "Sprint Car" are also printed in bold letters on this Hawaiian shirt and the flags of both America and Hawaii. The shirt is made from 100% cotton; this garment will be comfortable worn out at the races or around town!
Price: $33.95
Denny Hamlin Racing Cars No. 11 Hawaiian Shirt
This Denny Hamlin Racing Cars No. 11 Hawaiian Shirt is perfect for the Denny Hamlin fan who wants to show their support for the driver.
The shirt features a crew-neck collar and all-over print design with zigzag cars on the front and back. This shirt allows you to show your allegiance to NASCAR while remaining calm, stylish, and comfortable!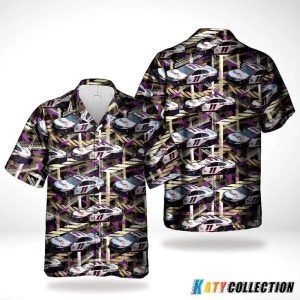 Price: $33.95
Dale Earnhardt Jr Cheering Daytona 500 Hawaiian Shirt
Dale Earnhardt Jr. is a NASCAR driver and the son of legendary Dale Earnhardt Sr., who was killed during a crash in the 2001 Daytona 500. He's won two Daytona 500s (in 2004 and 2014) and has the most wins for any active driver in NASCAR history.
As you might expect from a man with such deep roots in racing, Junior is interested in Hawaiian shirts—and he's not shy about sharing that fact with anyone who will listen.
He even featured them as part of his "Dale Jr" clothing line, which includes t-shirts, hoodies, and hats modeled on Hawaiian shirts!
Whether you're looking for something funny or severe for your collection, these humorous options will prepare you for race day!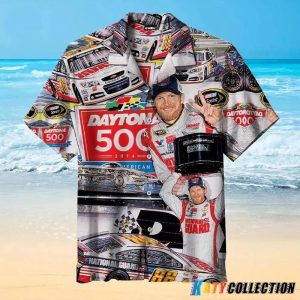 Price: $33.95
Kyle Busch Hawaiian Shirt
The Kyle Busch Hawaiian Shirt is a 100% cotton, long sleeve shirt that features the number 18 in front, with a picture of Kyle's face on the back.
This shirt is available in sizes S-XXL and comes in many different colors. If you're looking for funny Hawaiian shirts that feature Nascar drivers, this one should be at or near the top of your list!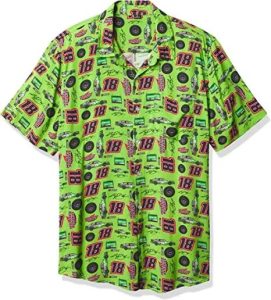 Price: $24.45 (Source: Amazon)
Jimmie Johnson Hawaiian Shirt
Jimmie Johnson is a professional stock car racing driver who has won five NASCAR Sprint Cup Series championships, the most of any driver. In 2010, Johnson became the all-time leader in consecutive races, with 23 straight victories.
He has appeared at the Daytona 500 and many other races. He is known for his love of Hawaiian shirts, and there is even a line of Hawaiian shirts named after him. If you are a Jimmie Johnson fan or looking for a gift for someone who is, this list of funny Hawaiian shirts will help you find the perfect one!
This Hawaiian shirt celebrates Jimmie Johnson's winning streak and impressive success record. The shirt is made from 100% cotton and in sizes small through 5XL. This humorous piece of clothing will surely be a hit with fans on and off the track!
Price: $36.99 (Source: alishirts)
Toyota Camry Hawaiian Shirt
The Toyota Camry Hawaiian Shirt is a great way to show your love for this car without being too obvious.
You can wear this shirt on any occasion, but it will be especially fitting at festivals and other events where many people are interested in cars.
The design of this shirt will help you stand out from the crowd while also creating an atmosphere that allows people to enjoy themselves without being distracted by other things.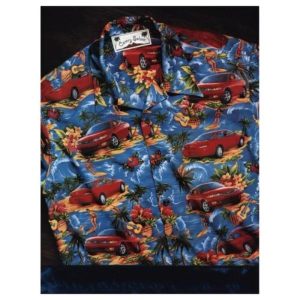 Price: $7.50 (Source: eBay)
---
More to discover:
---
Chevy SS Hawaiian Shirt
We've got a Chevy SS Hawaiian Shirt for you. This shirt is perfect for any NASCAR fan who likes to show off their love of the Chevy brand while embracing their Hawaiian heritage.
This funny Hawaiian shirt is available in multiple sizes, so you can find one that fits perfectly. The shirt comes with free shipping and handling so you can get it immediately!
Price: $44.99 (Source: eBay)
Conclusion
The next time you are in the mood for a new shirt, consider one of these funny Hawaiian shirts. They are perfect for summer and come in various styles and sizes so everyone can find something they like.
Whether you want something simple or more complicated, there's something here for everyone.